Research Associate
Health Informatics Advisor
Research Focus: Artificial Intelligence, Data Science, Machine Learning, Deep Learning,
Data Mining, Health Informatics, Natural Language Processing,
Social Media Analysis, Machine Translation, Automatic Summarization
Dr. Anna (Atefeh) Farzindar is a research associate and Health Informatics advisor of the NSF's Integrated Media Systems Center (IMSC) and a faculty member of the Department of Computer Science at University of Southern California (USC). She was the CEO and co-founder of NLP Technologies Inc., a company specializing in Natural Language Processing (NLP), established in Montreal, Canada (2005-2016) and was the Adjunct Professor at University of Montreal (2009-2015). She received her PhD in Computer Science from the University of Montreal and her Doctorate in automatic summarization of legal documents from Paris-Sorbonne University in 2005.
She received Femmessor-Montréal awards 2015, Succeeding with a balanced lifestyle, in the Innovative Technology and Information and Communications Technology category because of her involvement in the arts. Her paintings have been published in a book titled One Thousand and One Nights. By using the palette of vivid colors and a contemporary style, it revolved around the place of women in modern society (Vernissage & Artist Book Launch, Montréal https://www.youtube.com/watch?v=TLCghx1mvzY).
She has served as Industry Chair of Canadian Artificial Intelligence Association (2013-2015), Chair of the technology sector of the Language Industry Association Canada (AILIA) (2009-2013), vice president of The Language Technologies Research Centre (LTRC) of Canada (2012-2014), a member of the Natural Sciences and Engineering Research Council of Canada (NSERC) Computer Science Liaison Committee (since 2014) and Member of the Canadian Advisory Committee of International Organization for Standardization (ISO). She was Honorary Research Fellowship at the Research Group in Computational Linguistics at the University of Wolverhampton, UK (2010-2012) and Lecturer at Polytechnique Montreal, engineering school (2012-2014).
Recent Books
Recently, she co-authored a book in Natural Language Processing for Social Media, published by Morgan and Claypool publishers, 2015, Second Edition Dec. 2017.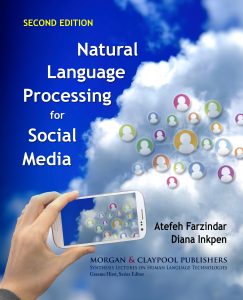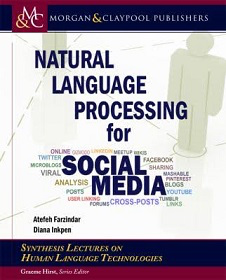 Current Projects
Analysis of Medical Data from Electronic Medical Records (EHR) and Electronic Health Records (EMR)
Prediction of Success and Survival Score in Liver Transplantation
Healthcare predictive analytics for Patient Blood Management system
Teaching 
INF560: Data Informatics Professional Practicum (course designed by Dr. Farzindar), Fall 2015, Spring 2016, Spring 2017, Spring 2018
Student teams working on external customer data analytic challenges; project/presentation based; real client data, and implementable solutions for delivery to actual stakeholders; capstone to degree.
INF553: Foundations and Applications of Data Mining; Spring 2016, Fall 2016, Fall 2017
Data mining and machine learning algorithms for analyzing very large data sets. Emphasis on Map Reduce and Case studies.
INF 549: Introduction to Computational Thinking and Data Science; Fall 2016, Fall 2017
Introduction to data analysis techniques and associated computing concepts for non-programmers. Topics include foundations for data analysis, visualization, parallel processing, metadata, provenance, and data stewardship.
INF 590/CSCI 590: Directed Research
Research leading to the master's degree.
Contact
Integrated Media Systems Center (IMSC)
Department of Computer Science
Viterbi School of Engineering
University of Southern California
Powell Hall of Engineering, PHE 310
3737 Watt Way, Los Angeles, CA 90089-0272
Telephone: (213) 740-8945